turn – set – win!
Rotaris – the revolutionary strategy game for two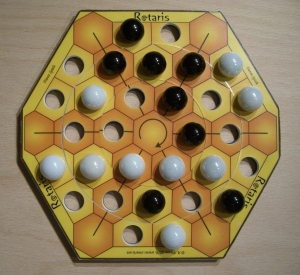 Each player rotates one of the two rings on the board and places his ball.

The first player to create a line of 5 balls of his color wins.
Quick to learn, but difficult to master. The double-nested rotators "revolutionizes" the situation with every transmogrification. This special feature has turned many a head …
The game is of high quality material consisting solely of wood and glass, housed in a convenient folding package.
Time: 5-10min
Age: 7+ years
Players: 2
For a bargain price, pre-order the game during its production phase at our shop (German).
If you don't understand German, order our games here using our contact form.