Everyday Autobahn Madness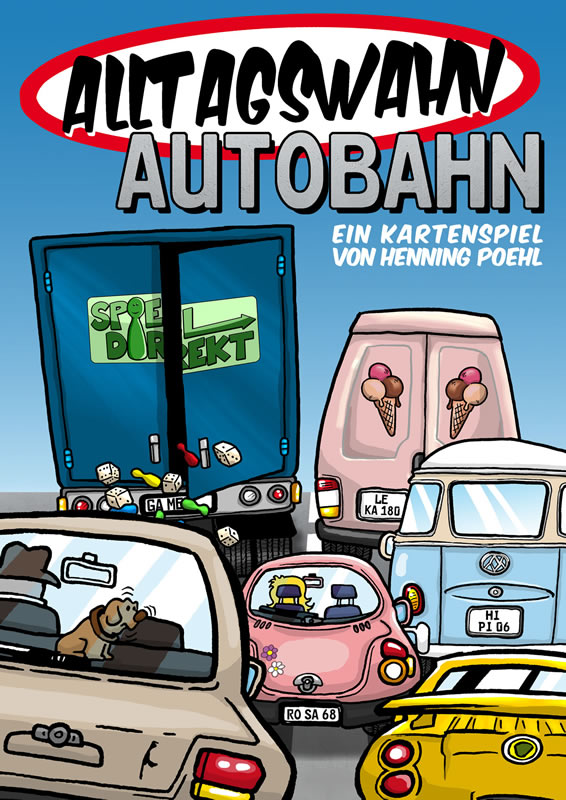 Designer: Henning Poehl
Illustrator: Stephan Baumgarten
Players: 2 – 4 driver (up to 6 if you use two card sets)
Playing time: etwa 30 Minuten.
Age: 12+
A CARD GAME ABOUT THE GERMAN AUTOBAHN!
What's this game about?
You're on the Autobahn and want to go as fast as possible.
But it's packed and the trucks are performing their usual "Elefantenrennen".*
But finally there is an extra lane, allowing you to overtake one vehicle after another, only to be photographed in a speed trap…
You are the best driver when you pass more cars on the Autobahn than the others.
*Literally "Elephant Race", this lovely German expression describes the temporary freeway blockage caused by one truck passing another with only a small difference in speed.
Mit verschiedenen Ereigniskarten können die Spieler außerhalb ihres Zuges den Spielverlauf beeinflussen und sogar Siegpunkte erwerben indem sie andere Spieler beim zu schnellen Fahren blitzen.
Contents:

64 playing cards
8 x traffic signs (2 each speed limit 80, 100, 120 and End Speed Limit)
2 x construction zones
12 x action cards (4 x Blitzers (speed cameras), 4 x Blinkers (turn signals), 2 x Lichthupe (headlight flashing), 2 x Notarzt (emergency vehicle)
11 x trucks (with speeds of 80 and 90 km/h)
7 x vans (with speeds of 100 to 160 km/h in 10 steps)*
14 x cars (with the speeds 90 to 220 km/h in 10 steps)
6 special cards (2 x wide-loads, 2 x man with hat, 2 x Sunday driver)
4 starting cards (1st and 2nd lane, speed limit 100 and truck 80 km/h)

1 Rule