Sport is Murder
Game-Designer: Henning Poehl
Illustrator: Tobias Thies
Player: 3 – 6 persons
Age: 16+
Playing time: 60 min.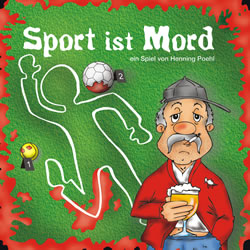 It is the goal of the game to become as fit as possible, by exercising sport as much as possible. Since exercising sport, as the game points out here, can be extremely dangerous, this game does not require any sporty activities of the player exercising the sport in the game.

You can find in the card-piles to each of the eight different sports three cards with horrible accidents.
basketball
billiarde
bowling
bicycle
soccer
nordic walking
snowboard
tennis
The accidents show different gravity degrees. Thus there is a light, heavy and deadly accidents.
Now the players must try to get the training-cards without suffering the described accidents. Besides, they carry out competitions with the other players who even try to provoke accidents.
It is coached in this game with dices. Every player has at disposal in addition ten dices of own colour.

This pciture is made by a prototyp.
Play material::
110 cards

72 trainingcards
  8 little accidents
  8 heavy accidents
  8 deadly accidents
  1 1A-trainer-coach
  1 The best coach whom I could get
  1 doping
  1 overviewcard: dices outside/inside
10 overview and shortrule cards

60 dices (in six colours))
12 doping pills
You can buy the game here in our Shop (German).
If you don't understand German, order our games here using our contact form.
Here you find the English rules as pdf-file.
---
Links about the theme "sport is murder"