Hammer of the witches
Designer: Tyler Sigman & Henning Poehl
Illustrator: Matthias Catrein
Player: 3 – 5 inquisitors
Age: 16+
Playing time: 60 min.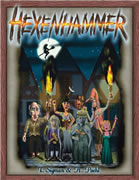 This is a disturbing game about the methods used to sniff out and punish witches by the power of the Court of Inquisitors.
In the game, you become one of these honourable inquisitors and learn the following: how to recognize the acts of witches, when to throw the accused in jail, how to conduct a tribunal and how to decide on the final verdict.
In the process, you help with the driving out of Devilry and Witchcraft. But watch out, or an informant of yours will end up accused as well. You must protect the lives of your helpers – only the witches should be consigned to the fire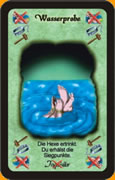 110 Playingcards:

15 Villager (Malefici)
15 staks
78 Verleumdungskarten

16 defamation-cards
6 different evidence
4 different inaccurate witness
5 different confessions
6 different witch-samples
8 denegations
14 donations
3 advocates
16 special-cards

2 summary cards

You can buy the game here in our Shop (German).

If you don't understand German, order our games here using our contact form. We will tell you the shiping costs to your country and the costs of the game.

Here you find the English rules as pdf-file.