The Exorcists
Game-Designer: Henning Poehl
Illustration: Markus Bülow
Player: 3 – 6 persons
Age: 16+
Playing time: 30-75 min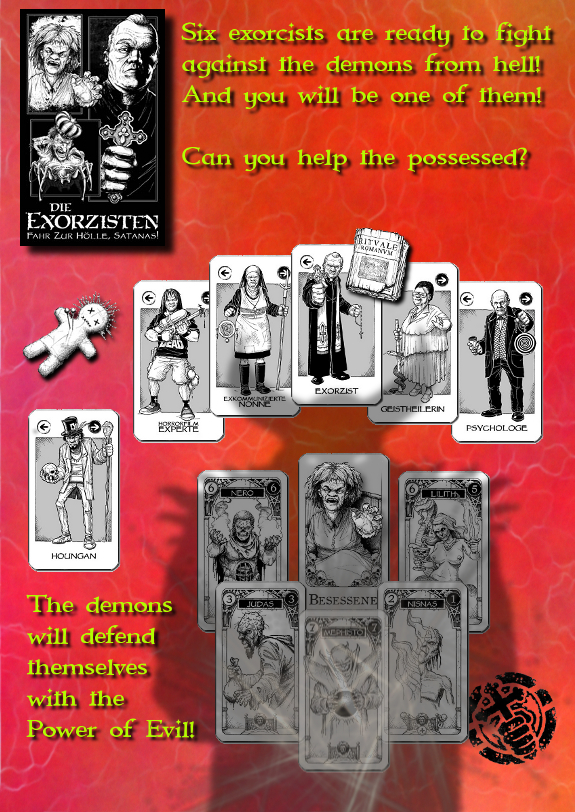 Begone demon!
Warning: Warning: This game contains disgusting demons in multiple guise, a possessed and a Voodoo priest. Because of this it's not suitable for unstable persons.
Six sundry characters are prepared to rush to the aid of those possessed by demons.
Each has their own way to help drive these demons out, from the fundamentalist exorcist who seeks to push the demons back to hell, to the voodoo priest (houngan) who sees possession as a gift of the gods.
Achtung: Attention: This game contains exorcists, a crucifix, as well as the Roman Rite and a lot of holy waters. Because of this it's not suitable for evil creatures.
How do you wish to help those afflicted?
Regardless, it won't be easy!
You will struggle against the nastiest fiends of history, including Judas, Kain, Hitler, Nero, Mephisto, Baal, and many others.
And naturally Satan, the Lord of the Liars, is among them!
And it will often occur that "The Devil is Lying!".
This game includes:
19 hideous demons (some of it in multiple copies),
6 different Exorcists, 9 religious objects and condemns a lot of holy water,
numerous psychological report and obsession proofs,
and many other things, everything in the form of 110 cards and 6 dices.
You can buy the game in our web shop (German).
If you don't understand German, order our games here using our contact form. We will tell you the shiping costs to your country and the costs of the game.
Here you find the English rules as pdf-file.