Dia de los Muertos
Game-Designer: Henning Poehl
Illustration: Michael Holtschulte
Player: 2 bis 6 persons
Age: 16+
Playing time: 60-90 min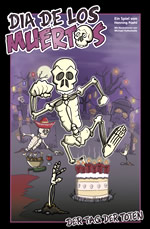 The Mexican public festival:
After Mexican confidence the souls of the deads come once a year back from the kingdom of the dead to the world of the living persons to celebrate a party with them. Differently to the European cultures where one is met generally the death with grief and melancholy and where a devotion of the dead people is connected with rest and silence the Mexicans meet the memory of their dead people with a happy party.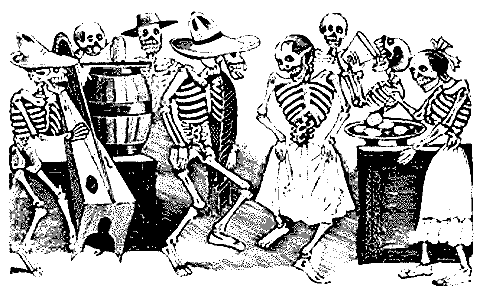 To honour of the dead people is danced, made music and feasted on.
The way, as the party is celebrated, strikes us to Europeans almost as droll or even weird.
Play purpose and play subject:
On a Mexican cemetery the yearly "Dia de los Muertos" is celebrated – the day of the living dead. The players are skeletons who don´t want to stay in their graves anymore! With creepy music, terrifying dance and decent feast the dead people celebrate together with the living persons. The skeletons try with cunning and malice to take part possibly in all festivities and to hold together their own body parts, before they must return again into their graves. However, they have to pay attention to the other skeletons, the dog and the gravedigger which strive to them for their bones…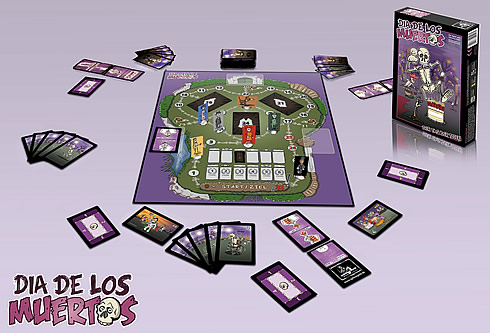 The Dia de los Muertos – The day of the dead people. from Henning Poehl, based on the card game "Zombie Rally" from Adam Loper and Peter Spahos, Snarling Badger Games.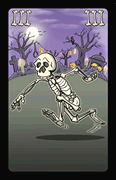 Spielmaterial:
1 game board
8 figures for the game with a set of plasticfeet:

6 skeletons (numbered from 1-6)
1 gravedigger
1 dog

99 cards

12 skeleton-cards
9 dead-festivity-cards
6 play-order-cards (with the counter 1-4 on the front, 5+6 at the back)
6 general-cards
66 action-movement-cards
You can buy the game in our web shop (German).
If you don't understand German, order our games here using our contact form. We will tell you the shiping costs to your country and the costs of the game.
Here you find the English rules as pdf-file.
---