Monster Maker
Game-Designer: Henning Poehl
Illustrations: Heike Schäfer
player: 3 to 5 persons
age: 16+ years
playing time: 75 min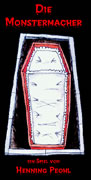 Slip into the labcoat of Dr. Frankenstein.
Loot graves in search of fresh body parts.
Dedicate yourself to the study of anatomy, so that you may may successfully sew up your own monster.
But the other players also would-be doctors envy your successes and would be happy to steal your laboriously acquired body parts.
The best monster maker will be the one that collects the "creme de la creme" of body parts and then successfully stitches them together.

Example of an moderate assembled monster!

Sorry, this game is out of print!!!
We can't offer it to you.

Here you find the English rules as pdf-file.