Nose Picking
Game-Designer: Henning Poehl
Illustrator: Matthias Catrein
Player: 2 to 5 nose picker
Age: every body can nose picking!
Playing time: 15-30 min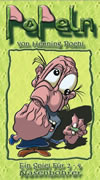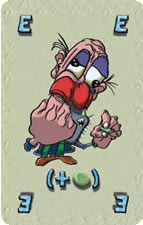 What's it all about?
Finally, you can do in public what you could previously only do in private: pick your nose to your heart's content! And not only that! In this game, you can finally get together with friends for a little old-fashioned communal nose-picking. All together, you can stick your fingers into up to as many as four noses. The best picker is the one who optimally uses length, width and angle to fish out the fattest boogers. Warning: excessing picking can lead to nasal enlargement!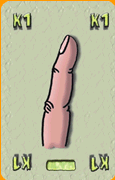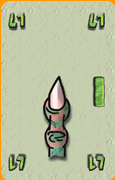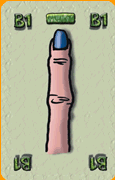 Somebody has a special finger for nose picking.
But you need not only a fine dexterity for nose picking. You need also luck if you want get big boogers.
So you find nice booger-green dice in this game.
Game material:
72 cards:  
5 nose cards – printing doubleside with one nose on each side.
21 booger-cards – with boogers in three different sizes.
46 nose-picking-cards – with different fingers,
6 colds
2 green nose-picking-dice
You can buy the game here in our Shop (German).
If you don't understand German, order our games here using our contact form. We will tell you the shiping costs to your country and the costs of the game.
Here you find the English rules as pdf-file.