Apocalypse
Game-Designer: Henning Poehl
Illustration: Markus Bülow
Player: 2 – 6 persons
Age: 16+
Playing time: 60-90 min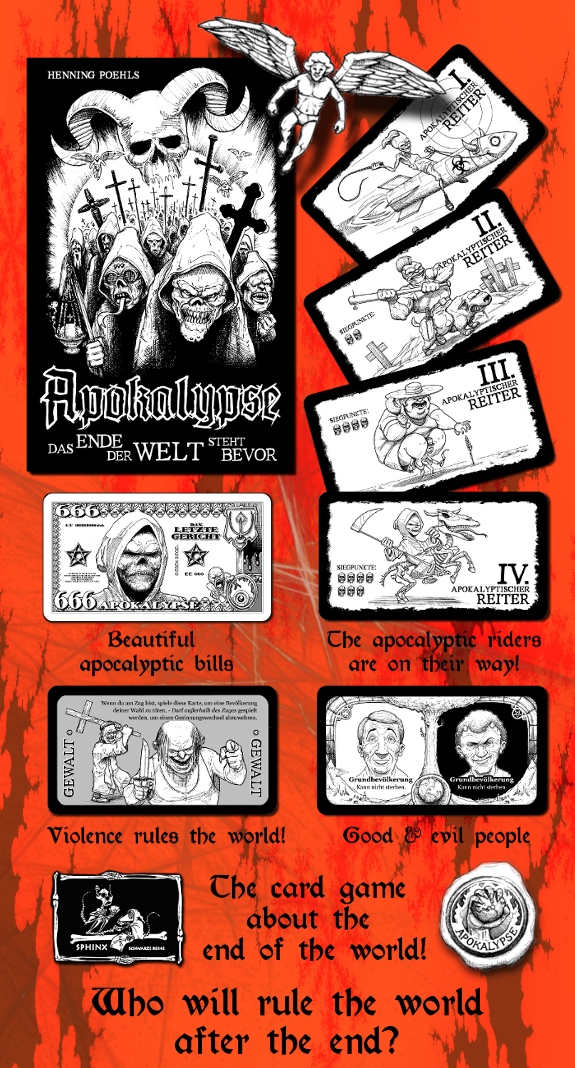 The end of the world impend!
Warning: This game contains violence, sex, drugs, pathological gambling and Heavy Metal, because of this it's not suitable for every taste.
Four apocalyptic riders have already got on the way to destroy the people of the world.
Can you prepare your nation for the oncoming catastrophe?
Attention: This game contains work, godliness, chastity and church music, because of this it's not suitable for every taste.
As a leader of a nation you must try to protect your people, consisting of good and evil people, against the destruction by the riders.
Besides, you must follow your ethos and lead the good or evil side to the rule about the world.
This game includes:
4 apocalyptic riders (in triple copys),
many good people and just many evil ones,
Apocalyptic money which has at the end of the world an incalculable value.
As well as many other things, everything in the form of 165 incredibly illustrated cards.
You can buy the game in our web shop (German).
If you don't understand German, order our games here using our contact form. We will tell you the shiping costs to your country and the costs of the game.
Here you find the English rules as pdf-file.